Double Drum Magnetic Separator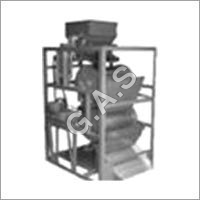 Double Drum Magnetic Separator
Product Description
Being a leading manufacturer, exporter and supplier of different kinds of construction machines, we bring forth for our clients a wide range of Double Drum Magnetic Separator. It is used for separating tramp iron from non magnetic materials for the purity of end products and recovery of metal having commercial value. This magnetic separator finds applications in processing industry for separation of iron contamination from minerals, chemicals, food, flour, plastics, grains, sand, cement, fertilizers, abrasives, glass, slag, ores, rock, refractory and many other products. We offer this Double Drum Magnetic Separator in different specifications as per the needs of clients at market leading rates.
Features:
Impeccable performance

Rugged design

Long service life

Less maintenance

Drum Consists Of High coercivity Modern Anisotropic Permanent Magnets

Strong & Rugged Construction

Automatic Separation Of Iron Impurities

Completely Enclosed Design To Avoid Dusting And Pollution
The permanent Magnetic Drum consists of stationery permanent Magnetic assembly having uniform and everlasting Magnetic field across the entire width of the drum, which is effective over approximately half the drum circumferences as shown in fig. Drum shell made of non-magnetic stainless steel revolves around the magnetic field. As material fell evenly from the chute falls over the drum, powerful magnetic, field attract & holds ferrous particles on revolving shell. As the revolving shell carries the iron particles through the stationery magnetic field, the non-magnetic material falls freely from the shell while ferrous particles are firmly held until carried beyond divider and out of magnetic field.
The strength of the permanent magnetic drum is guaranteed to be greater than corresponding electromagnetic Drum. The permanent magnets used are everlasting magnets and its strength does not diminish during normal use and can be used through out the life.
Contact Us
6/183-A, Pozhichalur Main Road, Venkateshwara Nagar, Pozhichalur, Chennai, Tamil Nadu, 600074, India
Phone :09444273001